With personalized work orders and other
custom forms from Mobile Punch,
no more paperwork and lengthy
processes before invoicing!
From a mobile or computer, the our work order application allows you to easily prepare or modify work orders, purchase orders, detailed submissions, and other forms
Staff is also able to have customers sign them on a mobile phone and email them directly if necessary.
The tool also offers the possibility of customizing all forms and creating fully customized templates for your specific needs: another important advantage that places Mobile Punch at the top of project management applications!
Get a demonstration
GET A DEMONSTRATION
The creation of work orders accessible to all
Mobile Punch offers flexible and accessible solutions
Whether in the office or on the road, your administrators and mobile workers can prepare and edit forms in real-time and assign them to projects so that they are accessible to the entire assigned team.
By giving you the possibility of producing work orders, purchase orders, quotes, and invoices directly on the application, the tool allows you to decentralize the work and increase the efficiency of all your employees.
As the documentation for each of the projects is available at all times, invoicing is done much faster, without forgetting hours worked, products or materials ordered!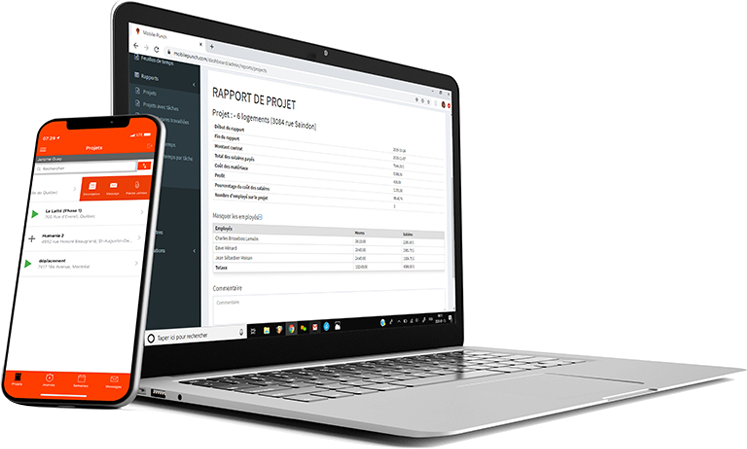 Glossary
Work Order Application
Request, time, user, tasks, mobile device, cost, option, team, technicians, management. Equipment, history, notification, invoice, manager, businesses, business operations, maintenance requests, tracking, trial, scheduling, devices. Facility management, Computerized Maintenance Management System. Asset tracking, Access, maintenance teams. Equipment maintenance, staff, customer satisfaction, advanced features, mobile applications, Inventory management, field service management tool, management app, management process. Business efficiency, business insights, business owners, service businesses. Real time, service requests, assignment completion tracking, user per month, mobile users, single user, daily tasks. Maintenance tasks, maintenance costs, program, software programs. Mobile access, software options, field technicians, equipment downtime, record work history, actions. Maintenance managers, labor, centralized database. Custom fields, maintenance department, Predictive maintenance, Unlimited assets, critical asset. Key features, extensive training.