Construction companies use timesheets every day. Without accurate timesheets, it would be impossible to calculate employee payments and client billing. However, keeping track of employee timesheets can be a considerable challenge in the construction industry.
What is a construction timesheet?
A construction timesheet is a document that allows contractors to track employee time on a construction site. The information found within construction timesheets is useful for a wide variety of purposes, including remuneration, calculation of project costs, billing, insurance claims, and evacuation efforts.
Time is very valuable during a construction project. It is in the best interest of every contractor to know how much time and effort is spent. Employers can use construction timesheets to record logs of workers, tracking either the hours an employee has been working or the entire time they've been at work.
Documents that calculate working time started becoming popular in the late 1800s when clerks and timekeepers kept time books to allow employees to log in their working hours. Nowadays, employers can choose between manual and digital timesheets, with the latter being the option of choice for those who wish to improve operational efficiency through the use of specialized software for contractors.
A construction timesheet is essential to calculate pay and cost estimates. A timesheet also records an employee's role as well as their availability, project hours, and location at the time of the punch. The data found in construction timesheets can be used to increase the efficiency of construction processes.
For instance, companies can use construction timesheet data to track the resources allocated to a project and thus implement resources more efficiently. By finding free resources and releasing them into a task, contractors can speed up the completion of tasks and prevent having to pay for overtime hours.
How to reduce costs in a construction project
What to look for in a construction timesheet app
While there are many construction timesheet apps in the market, it is important to choose one that has a solid set of features.
Ideally, a construction time-tracking app should possess the following characteristics:
Mobile time punching
It is indispensable for a construction timesheet app to simplify the way employees track time. The best time-tracking apps leverage cloud-based software to allow employees to punch in their hours from their phones or tablets. Every worker should have access to detailed timesheets to consult past information to save time that would otherwise be spent sifting through documents.
All field employees working on remote job sites should be able to punch in their arrival time to the work site, even without cellular network access. Furthermore, administrators should have a real-time view of arrival and departure sites. Automatic timesheet software makes inaccurate timesheets a thing of the past. Not only is team management made easier, but transcription errors, calculation mistakes, omissions, and delays are instantly avoided.
Working hour calculation
Cloud-based construction time tracking software can include an integrated timesheet calculator. This software makes it easier to calculate the total hours worked by all employees and share that information quickly with the administrators of a construction business.
A construction employee time-tracking software that calculates work hours can take into account overtime, double time, half time, bonuses, holidays, and break time. It may even modify the hourly rate of an employee depending on the type of work being performed.
Personal geolocation
The presence of employees can be made easier to track with GPS location software. A mobile app with geolocation capabilities enables companies to have a real-time overview of employees, simplifying resource allocation, task assignment, and shift scheduling. Because GPS software can work with satellite signals, it makes little to no use of cellular data.
Attendance tracking via employee timesheet software allows field service companies to keep team productivity at an all-time high. GPS can help leverage consistent employee monitoring, thus increasing operational efficiency and project profitability.
Project management
Poor project planning can cause any construction project to fail and even the most experienced planners are at risk of making mistakes. Having access to information and software tools that facilitate project management can drastically increase productivity.
A construction timesheet app is able to centralize data, allowing all employees to be aware of project development regardless of their location. Likewise, access to real-time reports allows employers to track progress, improve employee scheduling tasks, and make informed business decisions.
Working hour management
By using a mobile timesheet app, employers can keep close track of employee schedules, including billable and non-billable hours, and make the best use of their working time. Good construction timesheet apps increase visibility on the skills and talents of employees, helping managers create the most productive schedules.
A construction time clock app can contain a full list of employees alongside all the information needed to manage the work schedule of each individual user. Not only should this account for their full names and contact info, but also for their skills and certifications.
Electronic agenda
Time management is made much simpler by implementing a digital agenda. Electronic agendas can be used to create functional employee schedules in minutes and share them in a single click. Instead of having to manually re-assign repeating schedules and timetables, managers can simply copy and paste the upcoming timeslots to employees with recurring schedules.
Through the use of construction timesheet templates and customizable invoices, even the process of creating a document can be made faster and easier. With an electronic agenda, employees can accept or decline shifts, view their schedule, and receive notifications directly on their mobile time-tracking app. This helps employees focus on the task at hand instead of worrying about upcoming schedules.
Dispatch software
The distribution of tasks is a complicated assignment but it can be made easier with a mobile time-tracking app. The best timesheet software can also be used to manage deliveries and service calls. Employees can be alerted via notifications when service calls are received. This way, the nearest employee can receive all the necessary information to take charge of the assignment. Companies leveraging this software can offer quick and efficient service as well as manage unexpected events faster.
Work orders
Work order functionality allows managers to easily prepare and modify work orders, purchase orders, detailed submissions, and other types of forms. Moreover, employees are able to have customers sign work orders from their mobile phones and immediately share any relevant information.
Why do you need a construction timesheet app?
A construction timesheet app allows contractors to track employee time in a reliable and precise manner. Additionally, manual processes related to tracking employee hours, such as logging the information into accounting systems, can be automatically performed by a construction timesheet app.
When working with paper timesheets, employers need to spend a considerable amount of time sifting through documentation. Construction timesheets are paper documents that come from a hectic environment and are bound to become stained or torn. The handwritten information in a paper timesheet might be illegible or inaccurate, causing further problems when calculating time.
In contrast, the information from construction timesheet software is always clear and easy to handle. The frustration related to chasing missing time records or waiting for employees to deliver their timesheets is a thing of the past. With a timesheet software, all the information is automatically recorded by an app. Using construction time tracking software also allows companies to stay ahead of their competition.
The vast majority of companies in the construction industry are already using a construction timesheet app to deal with payroll processes. Construction timesheet apps help increase visibility, enhance workflows, and streamline scheduling. Any business that wishes to grow and remain competitive in the current market must forego paper timesheets in favor of a digital time-tracking solution.
Why it's important to maintain accurate employee records
How much do construction timesheet apps cost?
The price of construction project management software tends to vary depending on the particular needs of a company and the deals offered by vendors. The best time clock apps offer their customers flexible and customizable payment plans.
What is the best timesheet app for a construction company?
Mobile Punch is the best software application for timesheet management, scheduling, form production, and project tracking. This time-tracking software is very popular in many countries and is the most widely used time-tracking app by companies with mobile teams in Canada.
By using Mobile Punch, employers can effectively manage their teams in the field while cutting the time needed to process timesheets by half. To save time and avoid any irregularities, Mobile Punch automatically transfers worked hours into a company's accounting software.
Users of Mobile Punch benefit by having real-time information and insightful reports about their projects, allowing them to produce invoices faster. Likewise, the software simplifies the creation of schedules and the management of project costs. With one click, employers can produce forms such as work orders, quotes, performance reports, and much more.
How much time does it take to complete a construction project? That depends on several factors such as size, complexity, and location. In addition, some projects require more time than others. A timesheet template makes it easier to track the time spent working on a specific project. This way, you can easily see where you spend most of your time and resources, giving you valuable insights into how to improve efficiency.
What is a construction timesheet?
A construction timesheet is a a digital software format for recording all work done on a project in terms of hours worked by each worker and the total cost of that work. It includes information about the hours worked, materials used, tasks completed, etc.Construction timesheet software optimize time and payroll management for companies by making it all the information easily accessible on mobile phones. Apps like Mobile Punch are used widely in the construction industry to simplify the calculation of work hours and breaks to meet the CCQ's criteria.
Why do you need a timesheet for construction?
Timesheets help contractors and subcontractors manage costs. By keeping up-to-date records of labor hours, materials purchased, equipment used, and invoices paid, contractors can better understand what goes into completing projects. It also helps ensure compliance with local laws and regulations.
What should be included in a construction timesheet?
The features that are regularly included in a construction timesheet are:
Project name
Start date
End date
Total billable hours
Worker name
Employee ID number and signature
Supervisor ID number and signature
Everyone involved in a construction project should keep a timesheet in order to be able to prove the work they have done and ensure they are paid what they are owed. From project managers right down to laborers, it's essential that everyone keeps accurate timesheets.
What are the benefits of using a construction timesheet template?
There are numerous benefits to keeping daily, weekly and monthly timesheets in the construction industry. It makes it easier to calculate accurate payrolls and ensures that workers are paid what they are owed. It's also important for companies to have timesheets to be legally covered and to respect worker regulations and laws.
Below are some of the benefits of using a construction timesheet:
Great management tool
Improve productivity
Measure project performance
Analyze employee performance
Improve time management
Determine profit margins
Provide legal backup
How to reduce costs in a construction project
Examples of construction timesheet templates
There are many different types of construction project management templates out there but each one has certain features that make them unique. Some have built-in time-tracking tools, while others require you to add custom functionality. Regardless of the type of timesheet software you choose, here are three common types of construction timesheet templates.
General construction timesheet template
A general timesheet template provides insight into worker activity either on an hourly, daily or weekly basis. This type of template includes information about the hours worked, tasks completed, overtime rates, deductions, etc. You can choose whether to include the total number of hours worked per week or just show the amount of money earned.
Daily construction timesheet template
This type of template includes a simple daily timesheet form that allows you to track work hours, overtime and payments for each project on a day-to-day basis. You can use it to keep track of projects across multiple job sites or clients. The daily timesheet template calculates the total amount due per hour worked and provides a summary sheet showing how much money is owed for each job.
Modern construction timesheet template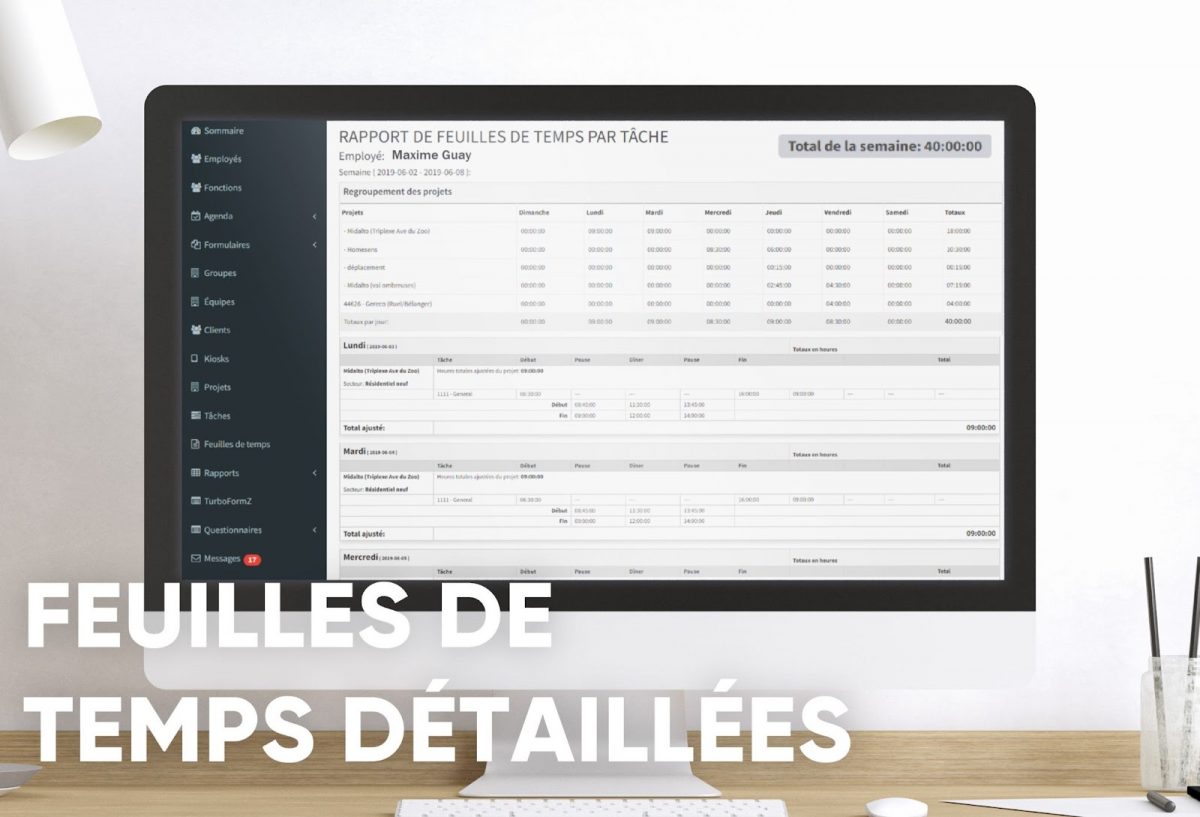 Timesheets and time calculations filled out manually on paper or entered into the computer are now a thing of the past. Employees no longer have to rely on clocks and punchers. No more transcription errors, calculation mistakes, omissions and delays. Modern construction timesheet templates are designed to help you save time while managing projects. Mobile Punch's timesheet calculator app is used widely by businesses in the construction industry to facilitate data gathering and organization of hours worked by employees and their paychecks.
Are construction timesheets still relevant?
Yes they are but companies are moving away from traditional paper timesheets and adopting digital solutions. In the 19th century, building projects often required large amounts of paperwork. This included time books, where workers recorded their hours spent working on different aspects of the project. They would also keep track of how much money they earned per hour, what materials they needed, and even what tools they used.
This information was then sent to the office, where a clerk would compile all the numbers into one final report. However, this process could take weeks, sometimes months, depending on the size of the job. Today, things are very different. Projects are completed digitally, and workers now record their hours via timesheet software. This makes things a lot easier from employees, and administrative staff alike and largely removes the chance of human error.
Save time and money with Mobile Punch
Keeping accurate timesheets in the construction industry is essential if you want to ensure that employees are getting paid what they are owed and that your company adheres to local laws and regulations.
Whilst traditional timesheets have been the way for many years, in today's modern age, digital timesheets are the way forward. Mobile Punch offers multiple software features that help employees keep on top of their working hours whilst also ensuring employers can verify their workers' presence at working sites.
Our digital timesheet calculator tool is an integrated app that makes human resource management far easier. Instead of employees filling out individual timesheets, they simply clock in and out on their mobile phone and then the app automatically calculates the exact hours worked. This aids in the creation of payroll invoices.
Here's a list of key features of our mobile app: