What are timesheets for construction?
How much time does it take to complete a construction project? That depends on several factors such as size, complexity, and location. In addition, some projects require more time than others. A timesheet template makes it easier to track the time spent working on a specific project. This way, you can easily see where you spend most of your time and resources, giving you valuable insights into how to improve efficiency.
What is a construction timesheet?
A construction timesheet is a a digital software format for recording all work done on a project in terms of hours worked by each worker and the total cost of that work. It includes information about the hours worked, materials used, tasks completed, etc.Construction timesheet software optimize time and payroll management for companies by making it all the information easily accessible on mobile phones. Apps like Mobile Punch are used widely in the construction industry to simplify the calculation of work hours and breaks to meet the CCQ's criteria.
Why do you need a timesheet for construction?
Timesheets help contractors and subcontractors manage costs. By keeping up-to-date records of labor hours, materials purchased, equipment used, and invoices paid, contractors can better understand what goes into completing projects. It also helps ensure compliance with local laws and regulations.
What should be included in a construction timesheet?
The features that are regularly included in a construction timesheet are:
Project name
Start date
End date
Total billable hours
Worker name
Employee ID number and signature
Supervisor ID number and signature
Everyone involved in a construction project should keep a timesheet in order to be able to prove the work they have done and ensure they are paid what they are owed. From project managers right down to laborers, it's essential that everyone keeps accurate timesheets.
What are the benefits of using a construction timesheet template?
There are numerous benefits to keeping daily, weekly and monthly timesheets in the construction industry. It makes it easier to calculate accurate payrolls and ensures that workers are paid what they are owed. It's also important for companies to have timesheets to be legally covered and to respect worker regulations and laws.
Below are some of the benefits of using a construction timesheet:
Great management tool
Improve productivity
Measure project performance
Analyze employee performance
Improve time management
Determine profit margins
Provide legal backup
How to reduce costs in a construction project
Examples of construction timesheet templates
There are many different types of construction project management templates out there but each one has certain features that make them unique. Some have built-in time-tracking tools, while others require you to add custom functionality. Regardless of the type of timesheet software you choose, here are three common types of construction timesheet templates.
General construction timesheet template
A general timesheet template provides insight into worker activity either on an hourly, daily or weekly basis. This type of template includes information about the hours worked, tasks completed, overtime rates, deductions, etc. You can choose whether to include the total number of hours worked per week or just show the amount of money earned.
Daily construction timesheet template
This type of template includes a simple daily timesheet form that allows you to track work hours, overtime and payments for each project on a day-to-day basis. You can use it to keep track of projects across multiple job sites or clients. The daily timesheet template calculates the total amount due per hour worked and provides a summary sheet showing how much money is owed for each job.
Modern construction timesheet template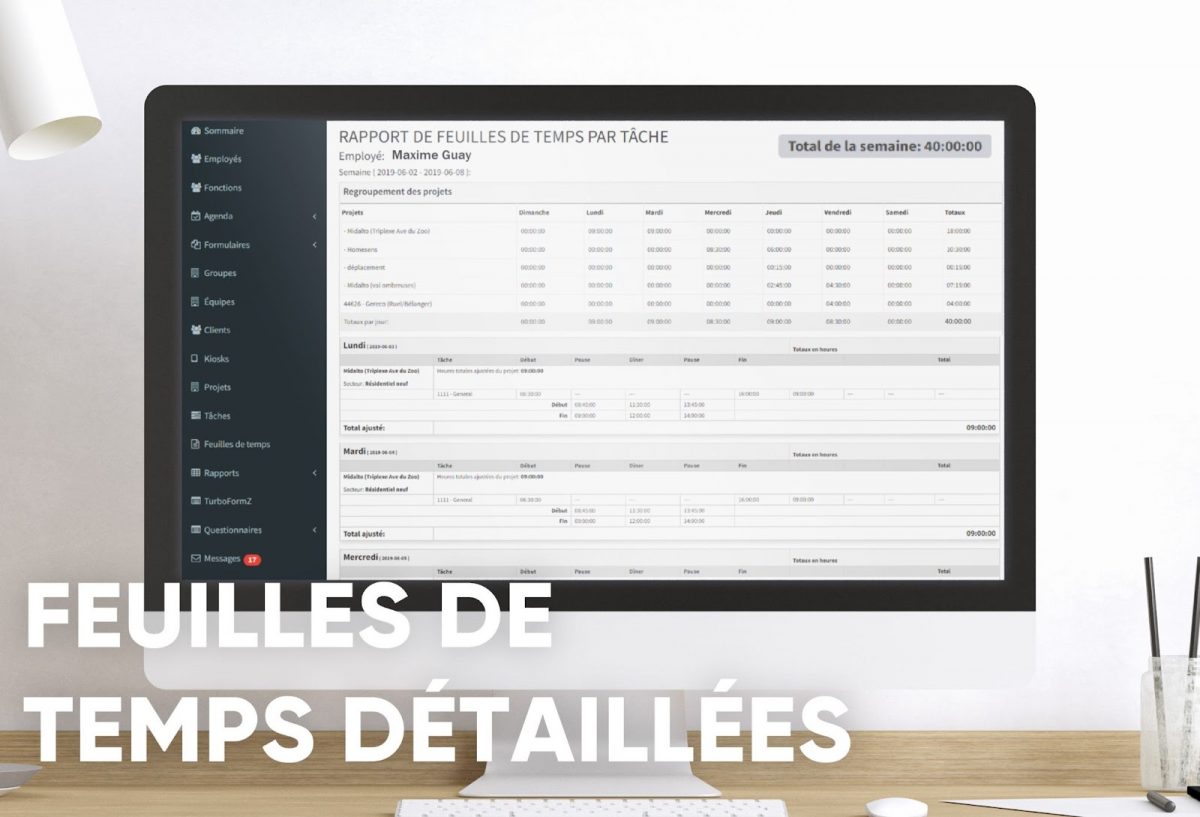 Timesheets and time calculations filled out manually on paper or entered into the computer are now a thing of the past. Employees no longer have to rely on clocks and punchers. No more transcription errors, calculation mistakes, omissions and delays. Modern construction timesheet templates are designed to help you save time while managing projects. Mobile Punch's timesheet calculator app is used widely by businesses in the construction industry to facilitate data gathering and organization of hours worked by employees and their paychecks.
Are construction timesheets still relevant?
Yes they are but companies are moving away from traditional paper timesheets and adopting digital solutions. In the 19th century, building projects often required large amounts of paperwork. This included time books, where workers recorded their hours spent working on different aspects of the project. They would also keep track of how much money they earned per hour, what materials they needed, and even what tools they used.
This information was then sent to the office, where a clerk would compile all the numbers into one final report. However, this process could take weeks, sometimes months, depending on the size of the job. Today, things are very different. Projects are completed digitally, and workers now record their hours via timesheet software. This makes things a lot easier from employees, and administrative staff alike and largely removes the chance of human error.
Save time and money with Mobile Punch
Keeping accurate timesheets in the construction industry is essential if you want to ensure that employees are getting paid what they are owed and that your company adheres to local laws and regulations.
Whilst traditional timesheets have been the way for many years, in today's modern age, digital timesheets are the way forward. Mobile Punch offers multiple software features that help employees keep on top of their working hours whilst also ensuring employers can verify their workers' presence at working sites.
Our digital timesheet calculator tool is an integrated app that makes human resource management far easier. Instead of employees filling out individual timesheets, they simply clock in and out on their mobile phone and then the app automatically calculates the exact hours worked. This aids in the creation of payroll invoices.
Here's a list of key features of our mobile app: